Shrouds of the Somme figurines mark WW1 battle anniversary (BBC News)
26 January 2016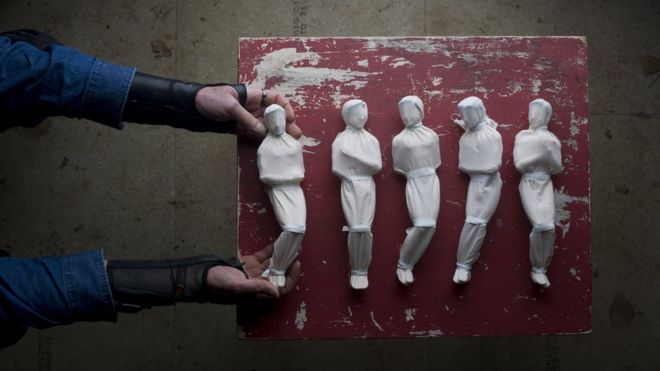 An artist has set out to create thousands of figurines in memory of soldiers killed during the first four hours of the Battle of the Somme.
Rob Heard is hand-stitching shrouds onto 19,240 wooden figures to represent each man who died in the notorious World War One battle.
He aims to complete the project before the 100th anniversary of the British Army's "bloodiest day" on 1 July.
Mr Heard said it was a "mammoth task" but he was confident he would succeed.
So far, about 5,600 have been made, with 100 figurines completed each day.
After completing each figure, Mr Heard, from Washford, Somerset, crosses a name off a list of those who died.
'Very intensive'
"It's very important that each one is associated with a name and I have all the names here on a board, alphabetically listed.
"As I go through the process of putting the figures within shrouds I cross the name off but it's vitally important it gets associated with the name because the individual gets lost in the numbers."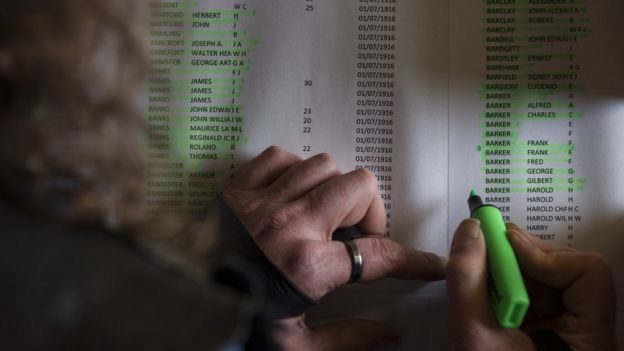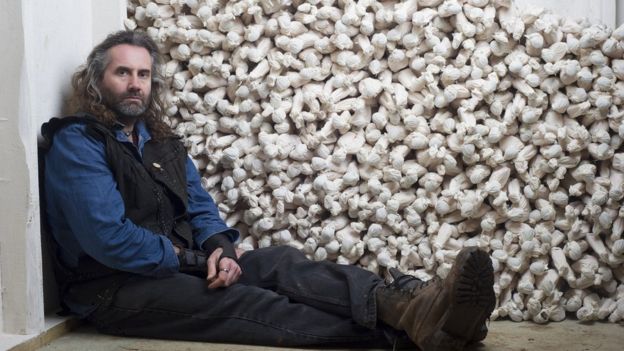 "I can do it, it's not a laborious task – it's like looking at the sea, you can do it for hours," added Mr Heard.
"It's very intensive and for me it can be quite painful, the way I go about it but I'm very doggedly confident I will get there."
During the Battle of the Somme, 100,000 Allied soldiers went "over the top" to face the German army on the slopes around Thiepval and Beaumont Hamel in the valley of the River Somme.
The figurines are set to go on display at Northernhay Gardens in Exeter and may also go on tour around the country.